Adiabatic Quantum Computing (AQC) 2023

June 19, 2023 12:00 AM - 12:00 AM
Albuquerque, New Mexico, USA
Adiabatic Quantum Computing (AQC) 2023 will be held in ABQ on June 19 - June 23.
The co-organizers are Tameem Albash (CQuIC) and Carleton Coffrin (LANL)
The twelfth International Conference, AQC 2023, will bring together researchers from different communities to explore this computational paradigm and related topics.
The goal of the conference is to promote a dialogue on the open theoretical questions and experimental challenges that must be addressed to realize practically useful adiabatic quantum computing and quantum annealing in existing and near-term hardware.
Speakers
Partial list of invited speakers
Lucas Brady (NASA QuAIL)
Arthur Braida (ATOS)
Madelyn Cain (Harvard University)
Carleton Coffrin (LANL)
Trevor Lanting (D-Wave)
Glen Mbeng (University of Innsbruck)
Humberto Munoz (University of Southern California)
Shruti Puri (Yale University)
Mohan Sarovar (SNL)
Tsuyoshi Yamamoto (NEC)
In collaboration with

and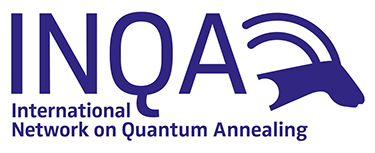 The International Network on Quantum Annealing (INQA) unifies the research activities of major global collaborations in quantum annealing in North America, Japan, the European Union and the United Kingdom.
INQA is supported by a International Network Grant from the UK Engineering and Physical Sciences Research Council.
AQC 2024
Advance notice: AQC *2024* will be held in the Scottish city of Glasgow (UK) at the University of Strathclyde Technology and Innovation Centre, from Monday 10 - Friday 14 June 2024.  Please save the dates, we look forward to welcoming you then.
Past AQC Meetings
The conference is a sequel to